Solvent Base Treated Airway Buffs
(1) The cutting power of buff is enhanced after solvent base chemical treatment, which can reduce the polishing time by 20%.
(2) After chemical treatment, the life-lasting is more than 40% longer than the general untreated buff.
(3) Excellent absorption by the bar and liquid compounds, which can save more than 30% of the compound consumption.
(4) Irregular packed, which exerts a self-cooling effect during the polishing process.
Get
此文章还有以下语言版本:
Tiếng Việt (Vietnamese)
繁體中文 (Chinese (Traditional))
If you need to obtain Solvent Base Treated Airway Buffs, please consult our customer service first, thank you.
---
Solvent Base Treated Airway Buffs
---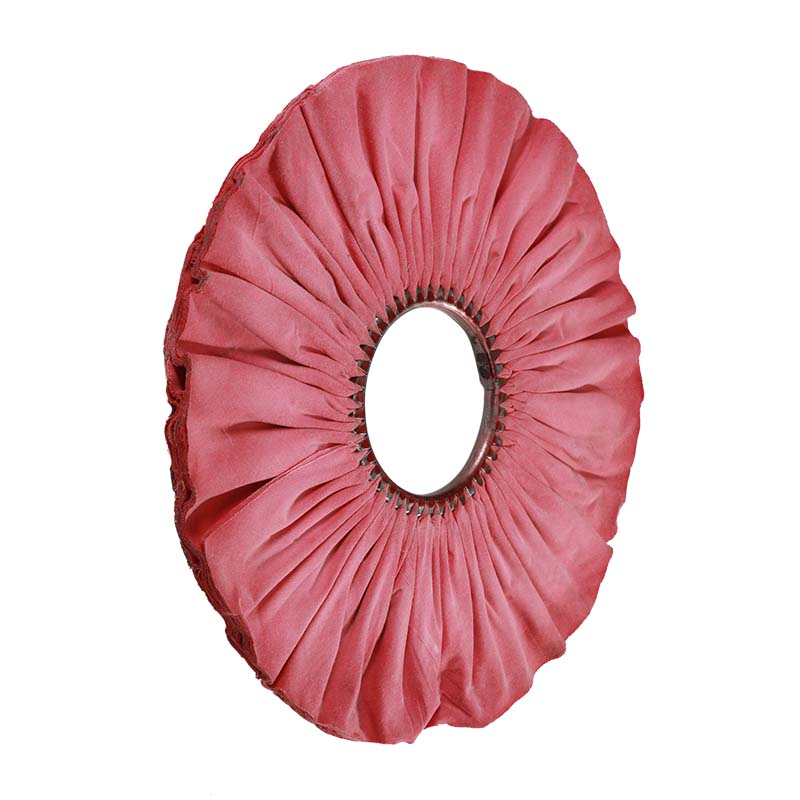 ---
Product Specifications
---
---
Attributes
Parameters
Product Name
Solvent Base Treated Airway Buffs
Other Name
Treated Airway Buffs
Product Specification
Outside diameter: 8″-26″
Inside diameter: 3″ , 5″ , 7″ , 9″
Number of layers: 10P-18P
Packed: #1-#8
Product Material
Solvent base treated cloth
Appearance Color
Black Dark Blue Orange Red Gold
Applicable Washer Diameter
5″, 7″, 9″, 11″
Maximum Speed
2400RPM
Thickness
15~20 mm/piece
Hardness
Hard
---
Applicable Industries
---

Hardware Industry

Bathroom Industry
---
Applicable Material
---

Available in all metal industry and non-metal.
---
Save durable
---
20% reduction in polishing time
The service life is more than 40% longer than that of ordinary untreated polishing wheels
Can save more than 30% of polishing wax usage
---
Facing Service (Paid service)
---
The surface of the cloth wheel is raked and facing, the part is evenly contacted during polishing. The facing surface of the cloth wheel is easier to absorb the polishing compounds to quickly achieve run-in production. For the initial polishing, it will be more delicate, quality consistency, and anti-scratch on parts.
---
Process Treatment
---
Special bias-cut cloth is formed into clinch ring by "J" machines.
---
Our Company
---

MAKERAZE, Located in the high-tech industrial zone of Jiangmen, Guangdong Province, China. We have the professional production technology of buffing and polishing materials in the surface finishing industry for about 100 years.
The industry which we serve is included in Automotive Aluminum Wheels、Door Hardware、Cutlery、Automotive Dashboard、Plumbing Fixtures、Cookware、Lighting、Fireplace Hardware、Medical and Dental、Printed Circuit Boards、Cell Phone Case、Lock Hardware、Musical Instruments、Furniture、Jewelry、Medical equipment…
The products which we supply are including Buffing Bar Compounds、Buffing Liquid Compounds and Spray Gun System、Cloth Buffs、Sisal Buffs、Pressure Tanks、 Buffing Equipment、Grinding Materials、Specialty Abrasives、Non-woven and Coated Abrasive Rolls、Flap Disk、Flap Wheels、Belts and Convolute Wheels、Fuel additives、Buffing Raw Materials、Polishing Materials.
We have a raw material laboratory with R&D ability to give us the well-skilled to adjust the formula of buffing compounds. Regarding the finished products, which are tested by a robotic cell in our appliance laboratory, give us the highest performance by simulated and alternative testing, meanwhile, it gives the best production benefits to the customers. We also support OEM which is required by various brands. And sincerely welcome to have any joint of cooperation and any inquiry.
---
Contact Us
---