Non-woven Pads
1. Elastic grinding can effectively prevent excessive cutting and scratching of the workpiece surface, without changing the workpiece's appearance size.
2.Self-sharpening grinding (grinding process make the continuous loss of fibers and new grinding sand constantly formed naturally)provides consistent processing quality for the workpiece,
3. Cold cutting, the unique structure can effectively help to heat the workpiece to avoid discoloration and distortion caused by overheating in the process of processing the workpiece
4.Anti-clogging, water and oil resistance, long service life;
5.Provide a safe and comfortable working environment – low dust, noise-free working environment.
6. Its soft material is suitable for processing all kinds of shapes of workpieces.
Get
This article is also available in the following languages:
Tiếng Việt
繁體中文
If you need to obtain Non-woven Pads, please consult our customer service first, thank you.
---
Non-woven Pads
---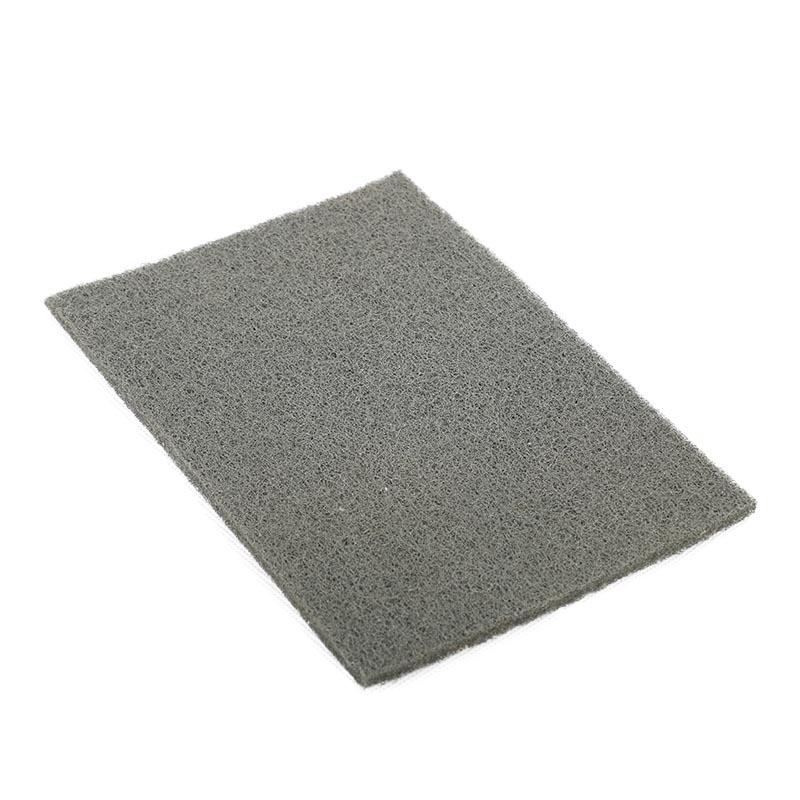 ---
Product Specifications
---
---
Attributes
Parameters
Product Name
Non-woven Pads
Other Name
Scotch Brite Pads / Non Woven Abrasive Pads
Product Specifications
60*90/8inches (can be customized)
Product Material
Elastic nylon abrasive products consist of special fibers, high quality viscose bonding and selected abrasives.
Appearance Color
Red
Green
---
Applicable Industries
---
All Industries
It iswidely used for decorative pattern treatment of metal, wood and plastic surface, especially for stainless steel processing ; It canalso achieve high quality processing results for steel, aluminium and copperand others .It is an ideal product for removing scratches, rusts and oxidizedskins on the surface and trimming burrs.
---
Product Usage
---
Cleaning effect
1. High-quality decorative linetreatment: it can provide high-quality surface treatment of a variety ofmaterials
Paint finish
Lacquer surface treatment: after coatings on wood, metal and other materials,such as primer and intermediate Lacquer is treated, the adhesion between thecoatings on the bottom is enhanced, thus effectively prolonging the life of thecoating floor.
Decorative thread processing
High-quality decorative linetreatment: it can provide high-quality surface treatment of a variety ofmaterials
---
Our Company
---

MAKERAZE, Located in the high-tech industrial zone of Jiangmen, Guangdong Province, China. We have the professional production technology of buffing and polishing materials in the surface finishing industry for about 100 years.
The industry which we serve is included in Automotive Aluminum Wheels、Door Hardware、Cutlery、Automotive Dashboard、Plumbing Fixtures、Cookware、Lighting、Fireplace Hardware、Medical and Dental、Printed Circuit Boards、Cell Phone Case、Lock Hardware、Musical Instruments、Furniture、Jewelry、Medical equipment…
The products which we supply are including Buffing Bar Compounds、Buffing Liquid Compounds and Spray Gun System、Cloth Buffs、Sisal Buffs、Pressure Tanks、 Buffing Equipment、Grinding Materials、Specialty Abrasives、Non-woven and Coated Abrasive Rolls、Flap Disk、Flap Wheels、Belts and Convolute Wheels、Fuel additives、Buffing Raw Materials、Polishing Materials.
We have a raw material laboratory with R&D ability to give us the well-skilled to adjust the formula of buffing compounds. Regarding the finished products, which are tested by a robotic cell in our appliance laboratory, give us the highest performance by simulated and alternative testing, meanwhile, it gives the best production benefits to the customers. We also support OEM which is required by various brands. And sincerely welcome to have any joint of cooperation and any inquiry.
---
Contact Us
---